You are here
Bryson Bendall, MD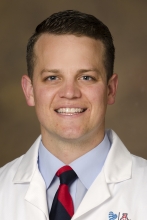 The University of Arizona College of Medicine - Phoenix
Program:
University Campus Residency
Where are you from?
Sierra Vista, Arizona.
What are your personal interests/hobbies?
Dad-ing, spending time with my wife when she is not saving lives in the NICU, cattle ranching and horse riding, fishing, hunting, hiking, camping, cheering on the UA Wildcats, singing in my church choir, piano and guitar playing.
What are your professional interests?
Rural, wilderness, and sports medicine.
Why did you choose UA EM?
I did a rotation here as an MS4 and felt right at home from the first day. The attendings were approachable and cordial. The residents were well rounded and collaborative. I felt that the complimentary affiliation with both an academic medical center and a community/county hospital would provide me with a thorough training that would prepare me for anything. Finally, for my family, Tucson has the perfect blend of family support, city entertainment, and south-western charm.
What's your ideal vacation?
A backcountry hunting or fishing trip with my Dad.
What are your non-medical goals during residency?
Spend time with my family, improve my Spanish, and perfect my famous family caramels and cinnamon rolls.